---


The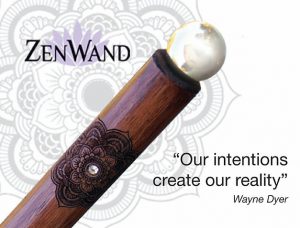 ZenWand is a sacred tool used for healing, meditation, yoga, and intention. Infused with reiki and activated with sacred geometry, it is an exquisite 14" long wand made of solid oak and handcrafted with love and conscious intention in beautiful British Columbia.

Each wand features two laser engraved "lotus love mandalas" at each end, and in the center, the symbol and mantra of your choice (there are eight to choose from). The engravings are highlighted with gorgeous clear Swarovski crystals, and seven chakra healing gemstones embellish the other side of the wand.

The "Flower of Life" symbol is carved into one end of the wand and a stunning 25mm silver musical chime sphere adorns the other tip.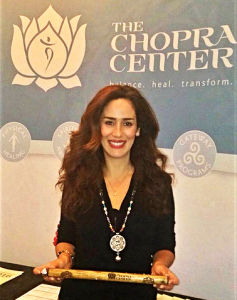 The ZenWand is a universal tool for attracting positive thoughts and energy into your life.
Who is using ZenWands? Yogis, holistic health and healing centers, Reiki practitioners, life coaches, women's retreats, martial arts teachers, school teachers, mothers to be, those who meditate and practice mindfulness meditation, and all spiritual lovers of our Universe.
(Please note: The ZenWand is a carefully crafted, sacred work of art. It is not a toy. It is a professional healing tools for adults and not suitable for children under 16 years of age. The silver chime sphere is very delicate and has been hand tuned to create the beautiful musical sound, so please handle with care. The chime sphere should never be pulled or twisted and is not replaceable.)
ZenWands are presented with a descriptive card and come packaged in a beautiful gift box, perfect for storing your sacred wand and for gift giving!
Choose your sacred symbol and affirmation mantra: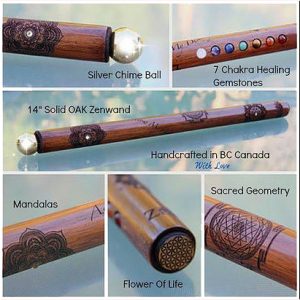 Archangel Michael – "I call upon Archangel Michael for his courage, strength & support"
Creative Destiny – "As I Follow My Heart, I Discover My Destiny"
Om – "OM Shanti… OM Mani Padme Hum ~ Namaste"
Universe Within – "I Have the Strength, the Wisdom & the Love of the Universe Within Me ~ Namaste"
Enlightened Breath – "I Breathe, I Let Go, I Trust, I Let Flow"
Love Light – "I Am Love, I Am Energy, I Am Shining Light"
Sacred Geometry – "My Perception Creates My Reality"
Miracles – "I Am Realistic, I Expect Miracles"